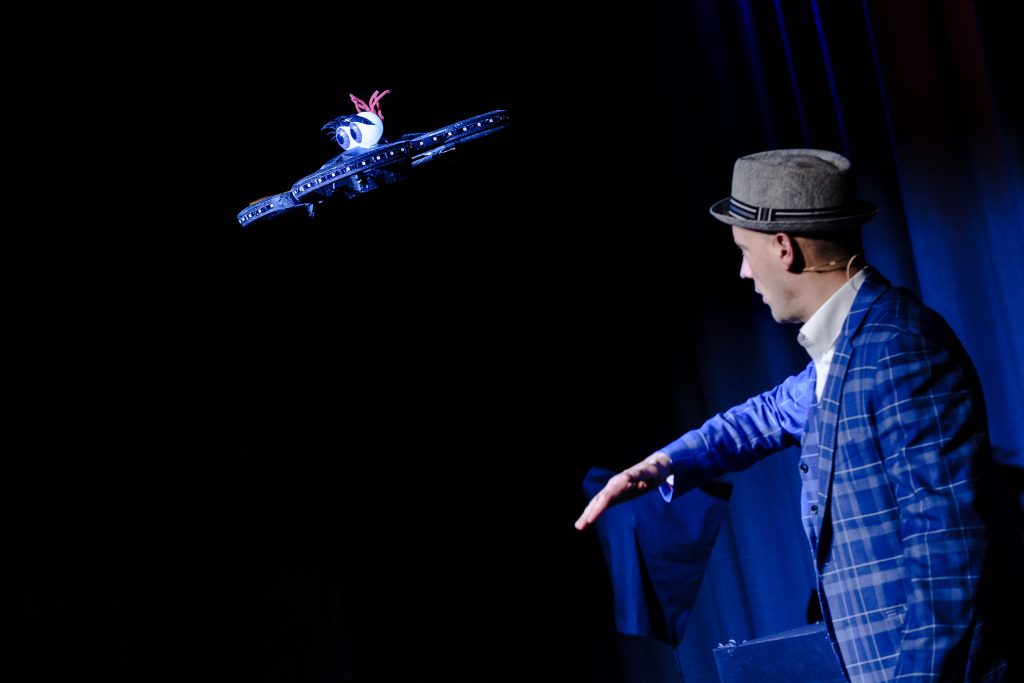 What makes your magic show special, Jean Olivier?
To amaze your guests I work with innovative gadgets such as drones, tablet computers and smartphones. As part of a sophisticated performance, they provide many amusing surprises and spectacular moments.
Especially in times of digital change and new economic challenges, future-oriented topics can be impressively staged using modern technology. At the same time, however, enterprise retrospectives, such as anniversaries, can also provide opportunities to offer added entertainment value.
And what else should people know about you?
Above all: That your guests will be fascinated. Because witnessing miracles together and sharing the enthusiasm connects people not only with each other, but also with your brand. Many companies have already recognized this and so about 95% of my performances take place at business events in Germany, France, and Switzerland in German, English and French.
My aim is to enrich your event with a perfect, tailor-made show and to inspire your guests. Therefore, my team and I are at your side from the start to help plan your event and to provide advice. We want to ensure that the location is ideally used and you are professionally looked after from formulating your request, through my performance to post-production.
How did you become a magician?
When I was 15 years old, I spotted a magician in a London department store who was performing his tricks. I was so enthusiastic that I bought my first props on the spot and from then on I only wanted to become a magician – with success. For 15 years now I have been inspiring guests at various company events as a professional magician.
I developed my abilities as a magician steadily and passed the qualifying exam of the Magic Circle of Germany with honors. Later, I became a member of the World Organisation of Magicians' Associations FISM (Fédération Internationale des Sociétés Magiques).
After intensive studies of classical magic, I reached a limit that I did not want to accept as my own. So I increasingly focused on integrating modern tools such as drones and iPads into my shows thus breaking new ground in the world of magic.
These first steps on my way to modern magic have over time resulted in ever larger, more innovative performances, which have also earned me the title of high-tech magician. As a technical magician, I now also perform internationally from New York to Dubai and Japan.
In addition, I regularly visit the shows of other artists, attend workshops and participate in national and international congresses and competitions in order to compete with the best magicians and to get new inspirations. I met the famous David Copperfield and already twice in a row climbed the podium at the German championships of magic art.
So you see: No matter for which occasion you wish to have a unique highlight, I have the skills as well as the experience to guarantee magical moments for your event.
Let the impossible become possible at your event – with a fascinating experience for your guests, and of course also for yourself.
I am looking forward to your inquiry.
With regards
Jean Olivier