The interactive magic online show for your virtual event
Magic in an online show? And that's supposed to work?
Yes, even better than I could have dreamed. The viewers of my magical online show are always thrilled by the interactivity and the feeling of being there. This is just the thing for your digital company party, online congress or virtual kick-off event, in Corona time.

Together from home
Enjoy a team experience – live, interactive, humorous, but from home. This not only saves you the trade-offs between a face-to-face event and cancellation: you create planning security with a good feeling for everyone involved. No matter if unvaccinated, vaccinated or recovered.
Gladly also internationally
And even more: Through the digital livestream via Zoom, Teams, Skype and Co. I enter the virtual stage through your screen. If desired, gladly also in English. This way, a digital team event can even become a global event if you wish, bringing your international teams together.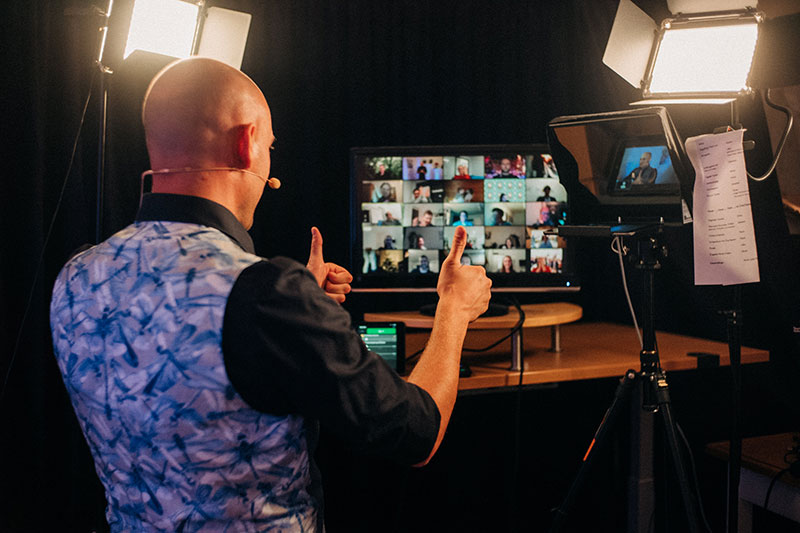 Magic trick that the participants learn themselves
In addition to the interactive online magic show, I will also give you a magic trick, which you can then present to your loved ones.
Book online magic show now!
Whether you are planning a company anniversary, a company party, a Christmas party, a New Year's party or an interactive kick-off event: My interactive online magic show is certainly suitable. Gladly also together with robots or as a hybrid event (combination of online show and on-site live event).
Maybe you have a completely different idea that we can implement together: Contact me and we will find the ideal solution for your event.
"With your show acts you and your adorable drone Lilli enchanted our guests. Your charming manner and wit contributed to the great success of our event and we received only positive feedback from our guests."